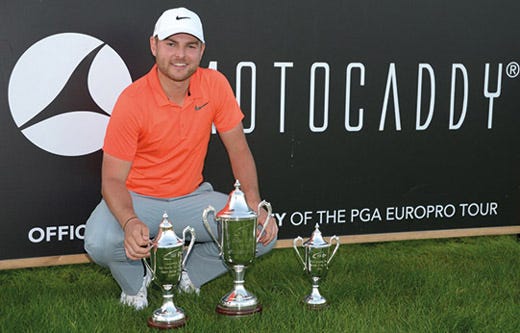 Motocaddy, the UK's top-selling trolley brand, has been announced as the 'Official Electric Trolley' of the PGA EuroPro Tour for the eleventh consecutive season.
The announcement came ahead of the first stage of qualifying for the promising young professionals, starting this week at six venues across England and Scotland.
The renewed partnership will see Motocaddy's brand new S1 electric trolley – generally accepted as the world's favourite electric trolley – presented to the winner of all 14 events on this season's Tour which starts on Wednesday 18 May at Frilford Heath Golf Club in Oxfordshire. Motocaddy will continue to provide support at every tournament on the 2016 schedule, which features on a two-hour highlights package on Sky Sports and broadcast on several networks around the world.
"We're excited to be working with Motocaddy once again and extremely proud that they've been alongside us for over ten years now helping the Tour grow into what it is today," said EuroPro Tour Managing Director Eddie Hearn. "It adds something extra special for the winner of each tournament, when they not only receive the winner's cheque, but a brand new Motocaddy trolley as well," he added.
Players will compete for £800,000 worth of prize money in 2016, with the top five golfers on the Order of Merit awarded a 2017 Challenge Tour card. Prestigious golfing venues such as The Carrick on Loch Lomond, Close House, The Oxfordshire and Burhill Golf Club will play hosts with the final event at Moor Allerton in September.
"The EuroPro Tour is seen very much as the leading development Tour in Europe and we're delighted to be sponsors once again," said Motocaddy Chairman David Wells. "We're delighted to see so many players using Motocaddy trolleys on Tour and the feedback from them has helped us develop new models in the range."
The latest S1 model incorporates a number of new improvements, including a soft-touch ergonomic handle; low-profile, quick release wheels; a streamlined battery tray and the exclusive super-fast QUIKFOLD mechanism. The winning prize will be accompanied by Motocaddy's popular Lithium battery.